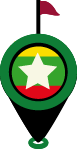 Inspirational Myanmar Golf Holidays. Golf in Myanmar is very much a mixed bag in terms of both the age of the courses as well as the design and playability. Yangon and the surrounding area is the only real golfing hotspot in Myanmar as Inle Lake, Mandalay and Bagan have only one course respectively. This means that holidays outside of Yangon golf can be used to split up the sightseeing. Were as Yangon is perfect for a total destination golf tour.
MYANMAR GOLF HOLIDAY PACKAGES
---
*All prices are per person based on 2 golfers sharing a room.