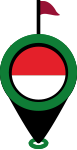 Inspirational Indonesia golf Holidays. Playing golf in Indonesia has 5 golfing hotspots which include Bintan, Jakarta (Bandung), Yogyakarta, Surabaya and Bali. The golf in Indonesia is as nearly as varied as the locations with many different jungle, woodland and ocean courses to choose from. Playing golf in Indonesia also throws up a surprising amount of top golf courses and designers from Ian Baker-Finch, Gary Player and the golden bear himself Jack Nicklaus. So if have yet to consider Indonesia as you next golfing holiday, then start looking now as you will be surprised by the wealth of choice and quality to match.
INDONESIA GOLF HOLIDAY PACKAGES
---
*All prices are per person based on 2 golfers sharing a room.