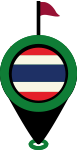 Inspirational Thailand Golf Holiday. More and more golfers are travelling to Thailand year on year to play golf. This is due to many factors such as the wonderful courses, great people, incredibly tasty food and all year round weather which is simply perfect for golf. Not only is the golf good but a golf holiday in Thailand has so much else to offer for both private holidays and golf groups alike. We can find locations that have wonderful beaches, great restaurants, good nightlife or quieter secluded locations where you can simply get away from it all.
THAILAND GOLF HOLIDAY PACKAGES
---
*All prices are per person based on 2 golfers sharing a room.