All our Cambodia golf courses are hand selected to bring you some of the best golfing destinations with amazing places for sight seeing adventures too.
Koh Kong is the most southwestern province in Cambodia which boarders with Thailand. This area of Cambodia is becoming more and more popular due it offering a wealth of eco-tourism, adventure, beach holiday possibilities and now golf. The area can be reached over land from Phnom Penh which is 6 hours away and from Sihanoukville which is under 4 hours away. You can also travel down from Bangkok and over the border with Trat which is a 7 hour journey. Once in Koh Kong apart from golf you can enjoy the beaches as well as the fabulous floating resort of 4 Rivers Floating Lodge which is situated on the picturesque Tatai River.
[googlemaps https://www.google.com/maps/d/u/1/embed?mid=1MDyGW1AxQnBlTDquZncqoJodfv9BjUWu&w=640&h=366]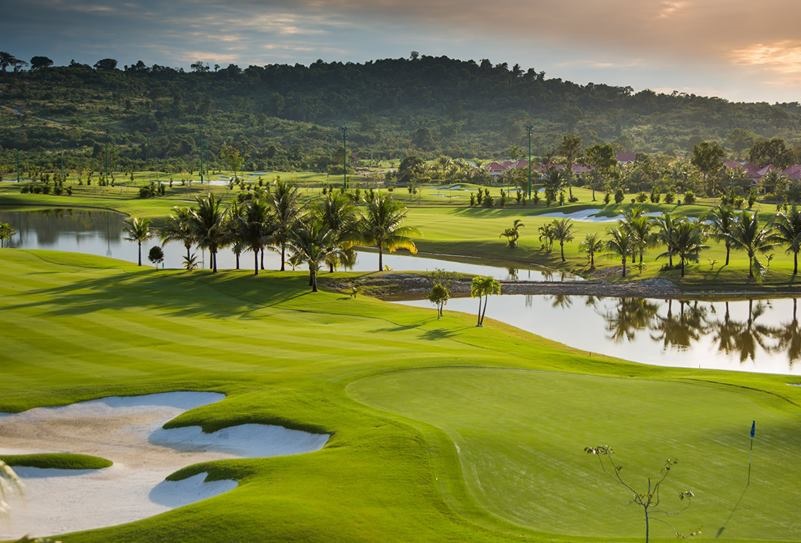 Dara Sakor Golf Club
Holes: 18, Yardage: 7,339, Par:72
The Dara Sakor Golf Club is the new kid on the block and is the first international golf club in the country. The master plan is to create a 54 hole resort, compromising of 3 18 hole courses, one Ocean Course, one Mountain Course and one Links style course. Each of these course will have its very own character and set of challenges. At this current time only the Ocean course is open and early reviews have had a lot of good thigs to say.
The capital of Cambodia Phnom Penh is fast becoming a cosmopolitan melting pot and offers the visitor a wealth of different experiences. As well as golf you can unearth Cambodia's somber past by visiting the Tuol Sung S-21 museum and The killing fields museum located on the out skirts of the city. Explore the local markets and enjoy a stroll along the riverside promenade. The city also boasts some fabulous eateries, boutique hotels, coffee shops, boutiques and some interesting galleries. The city also has a vibrant and varied nightlife perfect for golf groups.
[googlemaps https://www.google.com/maps/d/u/1/embed?mid=1F2AST0A9fgtePait3KiBHnUHYqoQaPbb&w=640&h=400]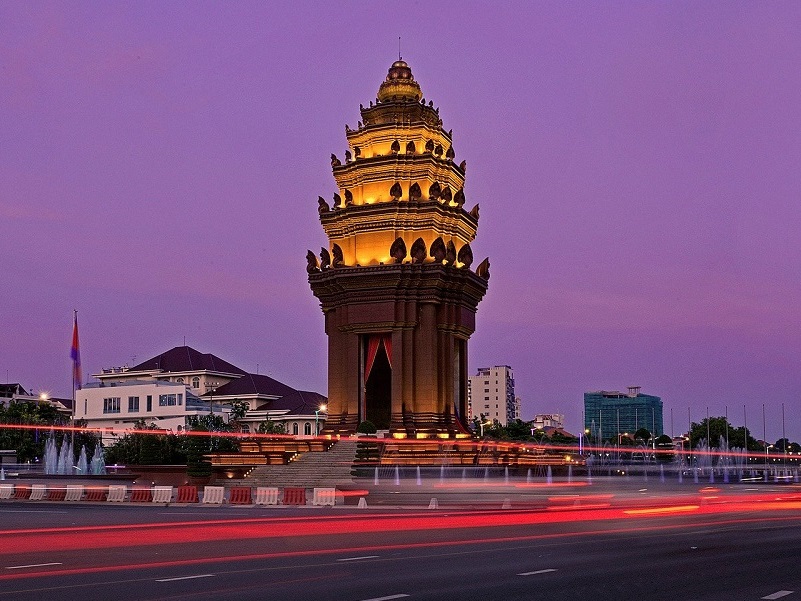 Grand Phnom Penh Golf Club
Holes: 18, Yardage: 7,243, Par:72
Grand Phnom Penh Golf Club is a private members golf course designed by Nicklaus Design. The course is without doubt one of the finest in Phnom Penh with immaculate fairways and manicured precise greens. The course is generous from the tee but challenging around the greens, the true test is provided when the wind blows as the course is quite exposed and water lurks round every turn.
Cambodia Golf and Country Club
Holes: 18, Yardage: 7,077, Par:72
This course has the honour of being the very first course to be opened in Cambodia back in 1996. This course is now probably the most tired course in Cambodia and its low price does reflect its condition. If you are new to golf and still finding your feet then this course could be the perfect introduction. The fairways are generally wide and forgiving, with the greens giving you a large target to aim for however expect some 3 putts.
Garden City Golf Club
Holes: 18, Yardage: 7,361, Par:72
Since this course opened its doors to the public in 2013 it has quickly immerged as of the best courses in Cambodia due to the wonderful condition and up keep of the course. The layout was conceived by architect Major General Weerayudth Phetbuasak, who also is responsible for excellent designs at Suwan and Sea Pine in Thailand and Phokeethra in Siem Reap. The course also boasts a superb modern club house perfect to enjoy a drink in the 19th hole.
Royal Cambodia Phnom Penh Golf Club
Holes: 18, Yardage: 7,075, Par:72
The Royal Cambodia Golf Club is located perfectly for those that are looking to have a quick round without travelling far from Phnom Penh. Located only 8km from the International Airport this course is popular with local dignitaries and expats. The course was the second to be built in Cambodia and opened by Prime Minister Hun Sen in 1999. He also apparently got a hole in one on the course too. The course is not the most challenging and is also relatively flat but there are a lot of bunker and water traps that will catch out if you're not 100% on your game.
Siem Reap is the gate way to the incredible Angkor Archaeological Park and the fascinating temple complexes. If Siem Reap is not on your bucket list then make sure you add it now as exploring the temples of Angkor Wat, Bayon and the Lara Croft temple of Ta Prohm is an absolute must for everyone. Siem Reap town itself has changed rapidly from the quite dusty town of 15 years ago and is now a popular tourist hotspot. There are a wealth of bars, restaurants and beautiful boutique hotels that make a Siem Reap the perfect destination for a golf holiday with 3 exceptional courses to play.
[googlemaps https://www.google.com/maps/d/u/1/embed?mid=1a9oXuSthcs6Ah456dw88s2ACD2FnelDq&w=640&h=400]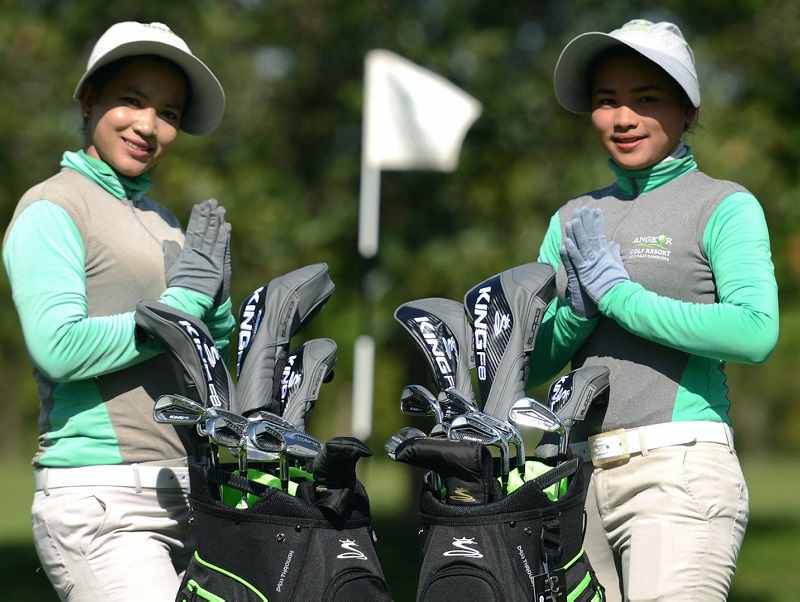 Siem Reap Booyoung Country Club
Holes: 18, Yardage: 7,396, Par:72
Formerly known as Angkor Lakes or Siem Reap Resort Golf Club, this is the third international standard golf course to have opened close to Angkor Wat. Designed by the renowned Japanese course architect Kentaro Sato. Generous palm lined fairways, and a choice of five tees on each hole enable players of all abilities to appreciate this well presented and manicured course.
Phokeethra Country Club
Holes: 18, Yardage: 7,327, Par:72
The Phokeethra Country Club was the first true international standard golf course to open in Cambodia back in 2007. For four years through to 2010 it staged the Asian PGA tour event Johnnie Walker Cambodian Open which in turn started to put Cambodian golf on the map. The course is designed to championship standard and will test your strategic skills with water coming into play on all but one hole.
Angkor Golf Resort
Holes: 18, Yardage: 7,279, Par:72
The Sir Nick Faldo designed Angkor Golf Resort which opened in January 2008, is without doubt the finest golf course in Cambodia, and any keen golfer visiting Siem Reap should play at least one round here. The course has challenging but fair layout and is always presented in immaculate condition with strategically placed bunkers and water hazards.

WHERE DO YOU WANT
TO PLAY GOLF?
Our most popular Golf Courses
WHERE YOU WANT
TO PLAY GOLF?
Our most popular golf courses