This is our selection of the best golf courses in Indonesia. View all of our recommended places to play golf in Indonesia.
Bintan Island has been a hidden golfing haven until now. The Island is located only a 45 minute ferry ride away from Singapore so extremely convenient for International travellers to fly in to Singapore. The island itself is truly beautiful and perfect for all including families as the island offers something for everyone. The courses on the island are pretty exciting with all of them designed by top past players; Ian Baker-Finch, Jack Nicklaus and Gary Player.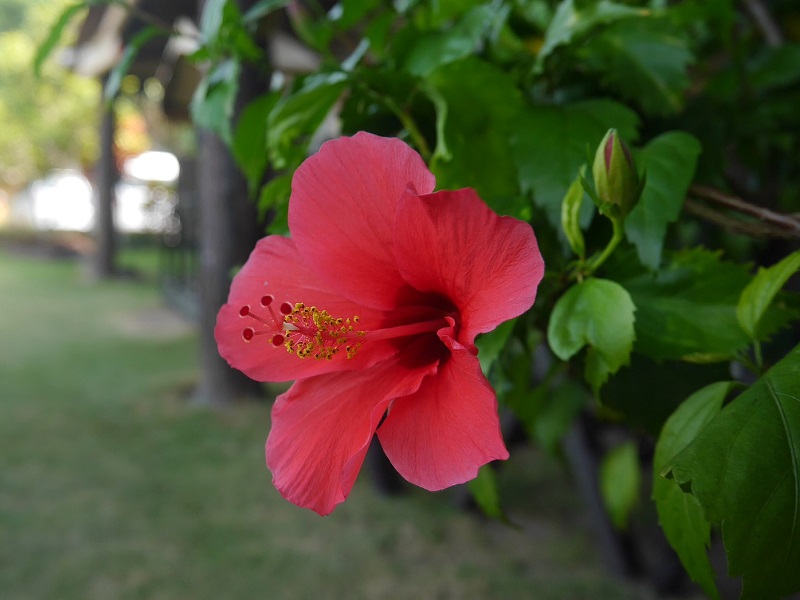 Bintan Lagoon Golf Club - Sea View Course
Holes: 18, Yardage: 7,078, Par:72
These 18 holes are designed by Jack Nicklaus so it is very much of a thinkers course. You can't always go for the big shots and have to rely a placement to plot your way round. The front nine takes you through tropical jungle that are littered with bunkers and on the back you have stunning views of the South China Sea.
Bintan Lagoon Golf Club – Woodlands Course
Holes: 18, Yardage: 6,832, Par:72
These 18 holes are designed by Ian Baker-Finch, with the course being designed through pristine rainforest and undulating terrain. The course has been designed to use all the lands natural crooks and crannies and making the look and the playability as natural as possible. The course as you would expect is in immaculate condition and features significant elevation changes.
Ria Bintan Golf Club
Holes: 27, Yardage: 7,117 / 3072, Par: 72 / 36
This world renown course is an absolute delight and features some absolutely cracking holes. One of which the par 5 7th as voted the best par 5 hole in Asia. The course both cuts through the Raiu Jungle as well as hugging the beautiful coast. The course is also ranked as a top 100 course published by Golf Digest Magazine and is a definitely a must play course for all you golf nuts out there.
Jakarta which is home to more than 13 million people is not only Indonesia's capital but with 35 courses in the area, many of them world class, Java is also the golfing capital of Indonesia too. Banbung on the other hand in years past was known as the 'Paris of Java' due to it many Dutch colonial buildings, café culture and its tree-lined avenues. Also as the area is around 900 metres above sea level the temperatures are a lot cooer and more pleasant to play golf.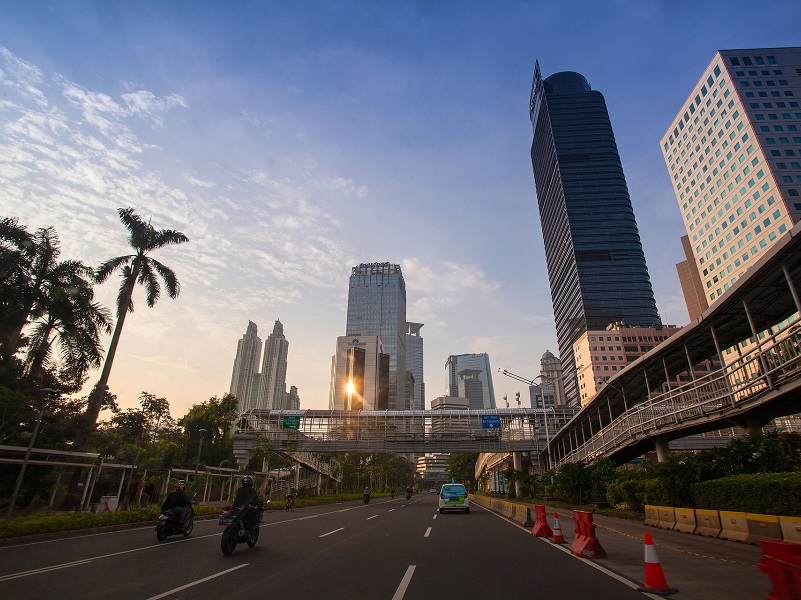 Bandung Indah Golf & Country Club
Holes: NA Yardage: NA Par: NA
This courses is set amongst some beautiful surroundings, with rolling hills and plenty of water. The Michael Coate & Associates designed curse is also part of a larger country club. The club has a wealth of other activities, enough to keep you occupied all day long. There are 2 outdoor and 2 indoor tennis courts, a swimming pool and for families there are two restaurants and a children's playground.
Imperial Klub Golf
Holes: 18, Yardage: 7,204 Par: 72
Playing over seven thousand yards this course is much more difficult than most hence it has started to attract some tour events. The course is also not that forgiving which is a signature of any Desmond Muirhead designed course. Hole 4 features a 200 yard carry to an island fairway then hole 5 plays 157 yards to an island green and things don't get much easier with the 18th flanked by a large lake just waiting to punish you at the finish. This is a real test of golf.
Cengkareng Golf Club
Holes: 18, Yardage: 6,891 Par: 72
Less than a mile away from Jakarta's airport you can be on the course in no time at all. This Walter Raleigh Stewart course is a very forgiving course perfect for higher handicappers as it does not always punish wayward shots. The course has hosted the Indonesian pen but not since 2008 when Colin Montgomerie won the event. The course is built mostly on flat land but still has some very interesting features that blend in to the areas natural surroundings.
Jagorawi Golf & Country Club
Holes: 45, Yardage: 6913 Par: 72/72/36
Opened only as recently as 1981 this Thomson, Wolveridge & Perret course is one of the most challenging in Indonesia. It has also got to fabulous courses; the new and the old, both of which have hosted the Indonesian Open. If these courses are not enough there is also a nine whole course which is a great challenge for the low handicappers.
Damai Indah (BSD & PIK) Golf Courses
Holes: 36, Yardage: 6,616 Par: 72
The PIK course, designed by Robert Trent Jones Jr is located close to the Java sea ad is known to the locals living in the area as 'The spirit of the sea'. The course plays with a lot of variety with water, sand as well as challenging undulating greens. The BSD course designed by Jack Nicklaus on the other hand also features plenty of water and sad as you would expect, with the course rewarding the more patient and calculated players.
Mountain View Golf Club (Bandung)
Sitting at an altitude of 800 to 1200 metres above sea level you get a tremendous view of the surrounding areas and Bandung itself. This Peter Thomson & Ross Perret designed course is the jewel in Bandung's crown and is a must when travelling to the area, situated about 3 hours from Jakarta.
Emeralda Golf Club
Holes: 27, Yardage: 9,911 Par: 108
Playing this course is an absolute must when visiting Jakarta as the course and the club house are just immaculate. The course has three separate nines with the Lakes and River nine being designed by Arnold Palmer and the Plantation course by Jack Nicklaus. All 3 nines are beautifully designed and a wonderful playing experience. The course has also played host to several Indonesian Opens, the Johnnie Walker Super Tour, the Dunhill Asian Masters and the Volvo Masters.
Royale Jakarta Golf Club
Holes: 27, Yardage: 6,609 Par: 72/36
This course is one of the top courses in Indonesia and was voted the best course back in 2014. Being only a short distance from Indonesia's capital it is very popular with locals. This course is a new breed of course designed by Bob Moore Jr and has certain interesting features such as near white powdery sand in the bunkers. Once the golf is over you can enjoy the visual aspect of the course from all angles from the stunning clubhouse.
Senayan National Golf Club
Holes: 18, Yardage: 5,616 Par: 69
This club has been at the heart of golf in Jakarta since 1962 and now it has had a recent transformation and facelift to bring it up to the 21st century. The course is set on a relatively small area of land but it feels much larger due to the abundance of wildlife that is attracted to the course. The course is also ringed with some of the capitals skyscrapers due to its location in the heart of the central business district.
Yogyakarta or just Yogya or Jogja to the locals is the Indonesian cultural capital. The city is well located to discover the incredible Borobudur and Prambanan temple complex which dates back to the 7th century. The area itself is not really a golfing haven with only two 18 hole courses and one 9 hole course. However, your golfing stay in the area is supplemented with some wonderful site seeing, culture and food and is a must if you want to get a balance of golf and culture.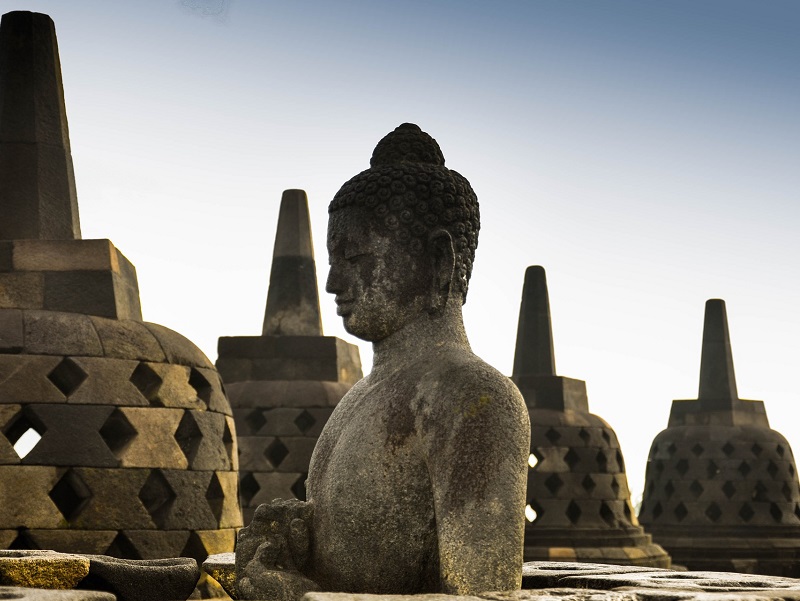 Borobudur International Golf & Country Club
Holes: 18, Yardage: 6,436 Par: 71
Located away from the busy city centre and out near the glorious incredible Borobudur and Prambanan temple complexes this course is bathed in beautiful surroundings. From the course you are able to see volcanos, and the surrounding mountains of Merapi, Merbabu, Menoreh, Sumbing and Andon. The course is well maintained and is of an extremely good standard.
Merapi Golf Yogyakarta
Holes: 18, Yardage: 5,616 Par: 69
Situated at the foot of the Merapi Volcano this Thomson, Wolveridge & Perret course is very special indeed, with some saying that there is a mountain spirit that lies over the course. The course itself has nice undulations and very deceptive shot making which makes the course a great challenge. Also being at 800 metres above sea level you are often rewarded with cool breezes.
Surabaya is Indonesia's second largest city with a population of 3 million which is way behind Jakarta. The area and the city itself is not the most picturesque and is described by most as a polluted and congested city, with most visitors just changing planes or trains. The area does however have 2 amazing mountain courses and is surprisingly a good location to golf, matching up to the level of Jakarta and Bali. Surabaya is also only a few hours drive from Mount Bromo and Mount Ijen which if you love your walking then these locations must be included in to a longer holiday.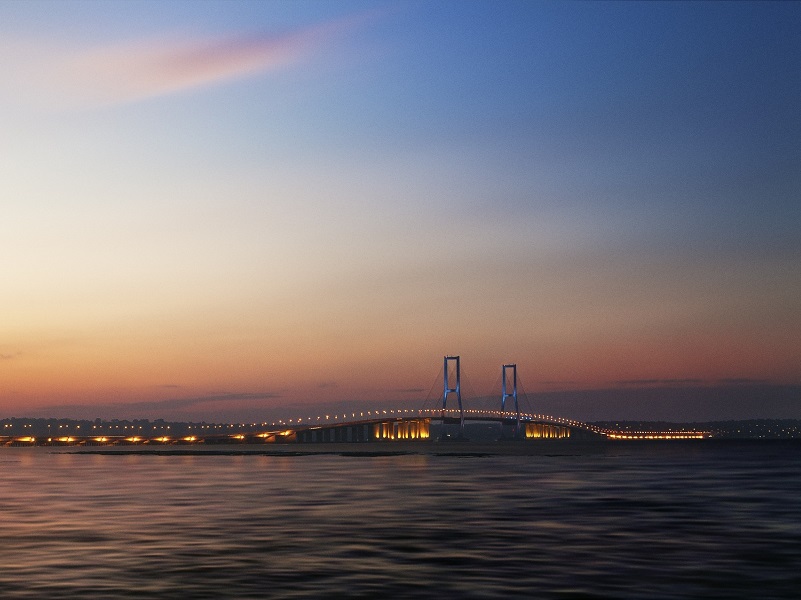 Bukit Darmo Golf
Holes: 18, Yardage: 6,833 Par: 72
This course was the first course outside of America that Jack Nicklaus II designed and he didn't make it easy. Even though the course is relatively flat the layout gives all golfers a stern test. Located just outside the city centre it is possible to get out and play and back to your hotel in no time at all.
Finna Golf & Country Club Resort
Holes: 18, Yardage: 6,269 Par: 71
Another Thomson, Wolveridge and Perret designed course which has produced a challenging round for golfers of all levels of skill as well as a beautiful course layout. The course is in superb condition and boasts an immaculate club house with a beautiful terrace, spike bar and swimming pool that all have wonderful views of the surrounding mountains. There are also some lovely romantic cottages that you can stay in if playing the course more than once.
Ciputra Golf Club
Holes: 27, Yardage: 10,002 Par: 108
This golf complex has 3 equally good championship nine hole golf courses and is situated in the centre of the mini city of Citra Raya. Each nine is very different, with the Valley and the Lakes course being the most played with the Hill course giving golfers the trickiest test. As an added extra this Andy Dye designed course also offers the visitor night golf as well as an aquatic driving range and many more activities including a kids club.
Golf Graha Famili & Country Club
Holes: 18, Yardage: 6,472 Par: 72
This is yet another wonderful country club that as well as golf it offers the visitor a wealth of other activities once on site. The complex has tennis courts a swimming pool and some great food in the onsite restaurants. The golf course on the other hand is set amongst a residential area which has been tastefully designed by Arnold Palmer himself.
Taman Dayu Golf Club & Resort
Holes: 18, Yardage: 6,833 Par: 72
This is a stunning signature Jack Nicklaus designed course that is set in natural surroundings at the base of Mount Welirang. As you would expect this course has well placed water and sand hazards and is a test for all levels of skill. The resort also offers a very good golf academy so we are able to arrange golf clinics if you are looking to tweak your game and stay longer.
Playing golf in Bali has never been so attractive, not just for those golfing nuts amongst us but Bali is the perfect destination to bring along your family too. Bali has been named the Island of the gods due to there being so many things for holiday makers to do. Apart from some incredible golf courses the Island of Bali offers some wonderful beaches, restaurants, shopping and spas. As well as cultural tours, mountain biking, yoga, meditation and rafting to name just a few. So get in touch and let us show you the true Bali for everyone.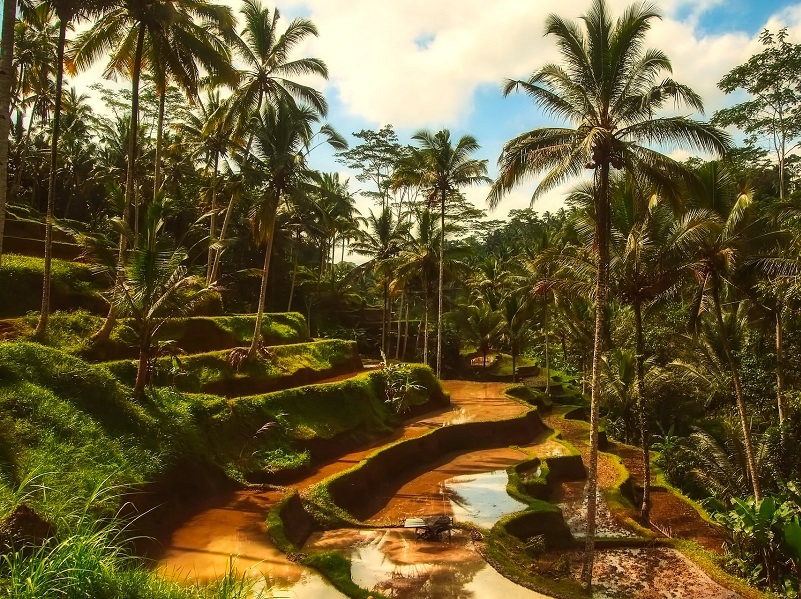 Bali Beach Golf Course
Holes: 9, Yardage: 3,650 Par: 36
Founded back in 1972 this interesting 9 hole golf course had a face lift in 2005 which was designed by Rajakulasingham. He created a challenging and fun course that uses all the mature natural beauty that the course originally had. The course gives players plenty of variety and is suitable for players of all abilities. The course also has a bar and restaurant on site, so perfect for a quick round or stay longer and play twice.
Bukit Pandawa Golf & Country Club
Holes: 18, Yardage: 2,178 Par: 54 (Par 3 Course)
This is not a full length course and is in fact a very special 18 hole par 3 course. The course is located along Bali's southern coast and plays along the high coastland cliffs. So pretty much where ever you are on the course you are blessed with scenic views of the beaches and the Bukit peninsula. Being close to many hotels playing a round here is very tempting indeed.
Bali Handara Golf & Country Club
Holes: 18, Yardage: 7,024 Par: 72
This course is an absolute must if you are staying in Bali a little longer as it is the only course that is not located in the south. Designed by Thomson, Wolveridge & Fream this course has featured in the top 50 golf courses in the world. Once you arrive in the area and see the scenery surrounding the course you will see why. The club house is a little tiered but this can't take away from the overall incredible experience of playing in a 300 year old extinct volcanic crater.
New Kuta Golf
Holes: 18, Yardage: 7,515 Par: 72
Located on Bali's southern shore this links style course is a great addition to any golf holiday in Bali. During your round you will be blessed with incredible sea views with a top insider tip to tee off after lunch rather than in the morning, this way you will catch the most breath taking sunset. The course is a good test for all playing abilities however as the wind rarely settles it makes the run in on holes 14, 15 and 16 particularly challenging. So concentration is needed to round off the day with a good score.
Bali National Golf Club
Holes: 18, Yardage: 7,166 Par: 72
Following a complete renovation of the course in 2012 many believe that this is now the best course on Bali. The course has also been voted as one of Asia's top 5 courses so is a definite must hen in Bali. The course has two very different 9's, the outward nine plays through tropical jungle and hillocks whereas the back nine is quite flat and plays through a series of manmade lakes. The whole set up is top notch with a modern club house with terrific views of the course.
Nirwana Bali Golf Club
Holes: 18, Yardage: 6,805 Par: 72
Designed by Greg Norman this course is without a doubt an incredible environment to play golf. Opened back in 1997 the course plays along the Indian Ocean and offers golfers the most picturesque of courses. There is no wonder why it was voted the best course in Indonesia by Golf Digest and Asian Golf Monthly. The course is a good test for all abilities with the layout of the course being able to be appreciated by all.

WHERE DO YOU WANT
TO PLAY GOLF?
Our most popular Golf Courses
WHERE YOU WANT
TO PLAY GOLF?
Our most popular golf courses